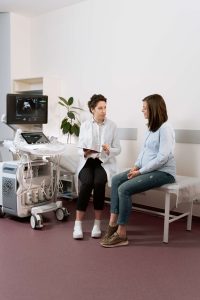 Before scheduling an abortion procedure or taking medication to abort at home, you should do these three things:
Have your home pregnancy test verified by a health professional
Talk with a health professional about scheduling an ultrasound
Get tested for STI/STDs
These three steps will reveal vital information about your pregnancy and health to determine your next steps.
Have Your Home  Pregnancy Test Verified
You've likely already taken a test, so may wonder why you need another. It's possible for at-home tests to be incorrect and it is important to verify the accuracy with a lab-quality test read by a health professional.
Talk with a Health Professional about an Ultrasound
A limited OB ultrasound reveals important information about your pregnancy that will determine if you are eligible for an abortion, and if so, what type of abortion procedure.
First, a limited OB ultrasound may reveal the location of your pregnancy. Sometimes the embryo implants outside of the uterus, most commonly in the Fallopian tubes. This is called a tubal or ectopic pregnancy and is non-viable, meaning it can't grow to completion. 
If undetected, an ectopic pregnancy can pose a serious threat to your health. It also cannot be resolved by the abortion pill and needs a separate procedure. An ultrasound will alert you if you need to seek medical attention immediately.
Second, a limited OB ultrasound helps you understand how far along the pregnancy has progressed. Women are only eligible to safely take the abortion pill through the first seventy days of pregnancy; taking the medication after this time could result in an incomplete abortion and lead to serious health consequences.
Finally, a limited ultrasound will confirm whether or not you have a viable pregnancy. It's estimated that as many as 26% of pregnancies end in early natural miscarriage. Even if your pregnancy test came back positive, you may have naturally miscarried before your ultrasound.
Test for STDs
Having an abortion with an STI can lead to health problems like pelvic inflammatory disease (PID) and even sepsis, which can be fatal.
It's important to get screened for STIs and treated before pursuing an abortion to avoid negative long-term health consequences.
Before Abortion
Before your abortion, it's essential to have your home pregnancy test results verified and seek the care listed above to protect your health. Liberty Women's Clinic offers free, lab-quality pregnancy testing at our center that is 99% accurate. To confirm your pregnancy, we also offer ultrasounds after a nurse consultation and provide free STI/STD testing and treatment.
Contact us about scheduling your free and confidential appointment today.
Contact Us
This information is intended for general educational purposes only and should not be relied upon as a substitute for professional counseling and/or medical advice.