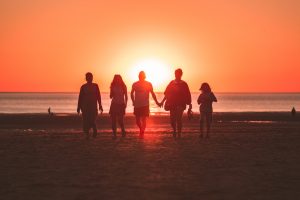 You may have been a mom for several months or years now, and thought your baby days were over. Maybe you thought you couldn't get pregnant again. But now you're feeling 'off'. Maybe you are tired, nauseated, or frequently needing to urinate. You try to remember when your last period was but draw a blank because you've been so busy caring for your older kids, preparing meals, going to work, attending after school programs… You take a pregnancy test, and discover you're pregnant.
The idea of adding a baby into the mix with your older children is stressful. It's going to change your normal: job status, school schedule, financial needs. You might be afraid of how your children will react to the news. Often, the fear of the unknown and the "what ifs" can overshadow some of the positives…sometimes, it's so much easier to focus on the negatives. However, taking the time to slow down and process with another person may help you see your situation a little differently.
If you are feeling overwhelmed about your pregnancy, confused, or unsure, we are here to help you process. Our trained staff of nurses will listen with open ears and without judgement to your concerns or fears. We will talk with you about your three pregnancy choices: abortion, adoption placement, and parenting. No matter what you decide , you'll always be welcome at our pregnancy clinic. We have been helping women in our city since 2002 and are equipped with a variety of resources to connect you with what you may need.
Schedule an Appointment
Contact us for a free nurse consultation to get started. We offer a combination of in-person and virtual consultations, so we will discuss  what works for your schedule. Use our text or phone line to get started: 816-415-9415. We are here to help you.
*Model is stock photo
Contact Us
This information is intended for general educational purposes only and should not be relied upon as a substitute for professional counseling and/or medical advice.